Hey all! I'm going to my first Con soon and I decided that now is as good of a time as ever to step into the World of Cosplay.
I've always loved it and though I suck at doing all the amazing things they do on the RPF, I figured I could try to put something together on short notice.
Anyhow, I recently bought a Jayne Cobb "Troublemaker" ringer which I wore on New Year's Eve, as pictured (along with my Smorkin' Labbit):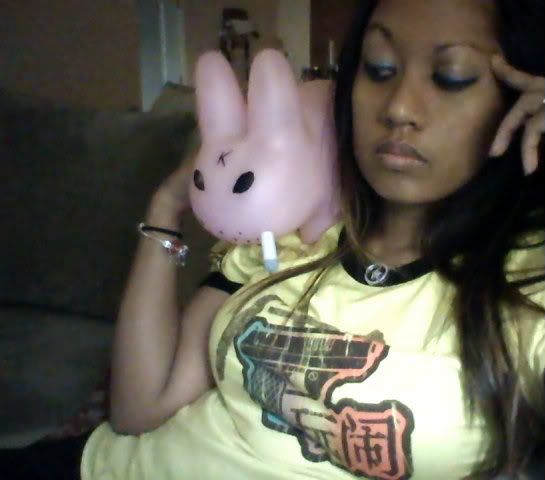 This gave me the divine inspiration to cosplay Jayne for the Con. >_> So instead of just wearing the shirt, I decided to have a corset made in the style of the Troublemaker Ringer. Here's a shot of the corset which I haven't received, otherwise I'd definitely have tried it on by now, lol.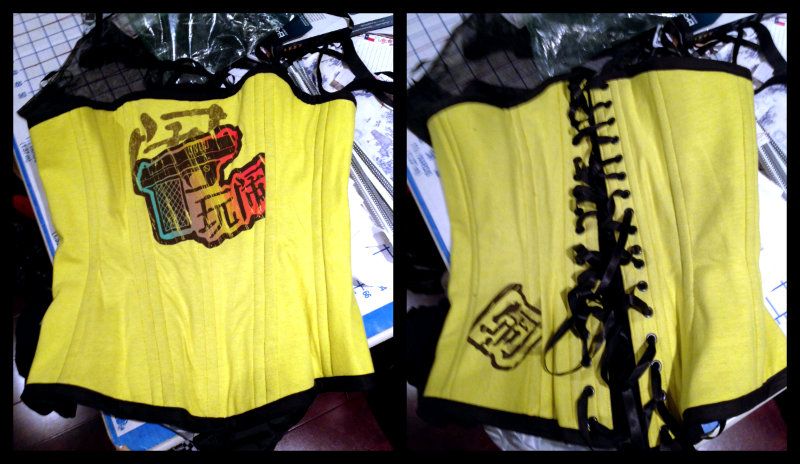 (If the color seems off it's because I didn't correct the color from the photos and the pic of me wearing it was taken with YouCam - ie: not the best in terms of picture quality.)
So in Serenity, Jayne basically wears the shirt with I don't know, a belt with a bunch of pouches, some beige/tan cargo pants, combat boots, gloves, and is strapped with guns. So I had about 3 weeks to put this all together and I got a good amount of it:
It's not
exact,
but I figure it gets the point across. Next time I have the chance to cosplay, I might try getting the belt right (as in the pouches etc.) and making Vera or or whatnot, but what I gathered should do just fine. Though...I didn't get the Cunning Hat. I dunno, everyone wears the Cunning Hat when they cosplay Jayne, and I didn't think the Cunning Hat goes with this particular outfit.
So I have a couple of questions.
1) Should I get the Cunning Hat? (lol)

2) I've got a 3-day VIP pass to the Con, and plan on going all three days. Since I only had time to put together one mostly polished-enough outfit to be considered "cosplay", my question is: What is the proper etiquette on wearing cosplay? Should I only wear it one out of the three days? Or can I wear it for two days? (I definitely don't want to wear it all three - I've got kind of a Tim Drake "Robin" casual cosplay I can wear on the least busy day. (Basically a "Robin-style" shirt, leather black shorts, and either dark red or black tights with boots)


Any experienced cosplayers out there have any advice?
Also, I'm going to have another corset made, eventually, in either the Tim Drake Robin style, the 1966 (Adam West) Robin style, or possibly the New 52 Jason Todd Red Hood style (he's back to wearing the bat symbol under his jacket). Which one do you guys think would look best made into a corset? (Obviously it'd be paired with a whole outfit so I'd at least have 2 cosplays to turn to, should the need arise.)
I can't wait to go to the con! Hopefully I'll have some pics to post afterwards, hee.