The Green Lantern Corps had returned from the brink once again. Their numbers had finally returned, the Guardians of the Universe were back in control, and Oa was once again orbiting a star in sector 0. Mogo, former home base of the GLC and sentient planet Lantern, was also still in sector zero and served as a new training grounds for the rookies in the Corps after taking a smaller form to conserve his energies. The Honor Guard was now headed up by John Stewart and Guy Gardner of sector 2814, and currently helping Lanterns within a ten sector radius deal with a family of Sun Eaters. The city of alien structures around the Central Power Battery was now called New Maltus, and thousands of alien refugees from destroyed planets and star systems had been offered residence. These refugees worked in restaurants, clothing stores, the Corps apartment complexes, etc. and kept the GLC honest. Some six hundred or so Lanterns stationed on Oa had even moved their families there.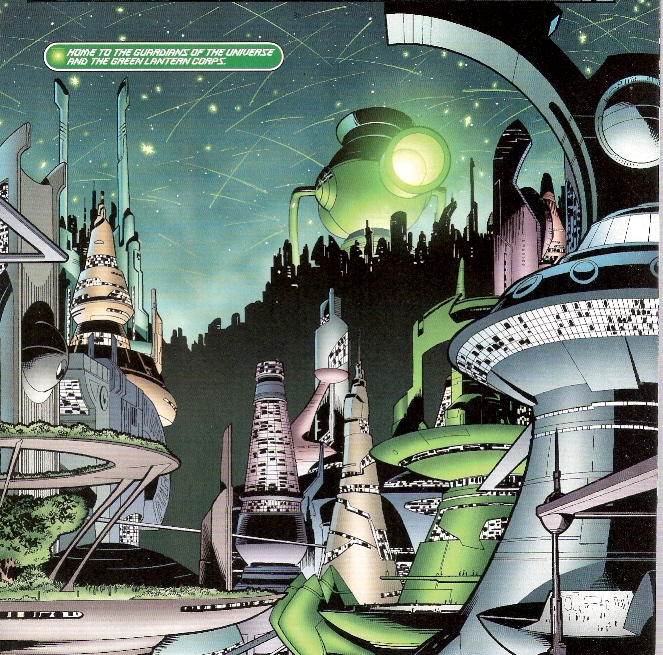 The city of New Maltus, on the planet Oa.
On Mogo the Corps was trained under senior Lanterns Kilowog and Stel. Mogo had been sized down to conserve energy, but had the ability to change his geography, weather conditions, and other things including creating a race of aliens for the Corps to train against. The Bore Beasts varied in size but were much better to train against than other Lanterns or constructs. Aside from the roughly six hundred Lanterns stationed somewhere on Oa, the rest of the Corps actively patrolled the more inhabited sectors in the 3,600 sectors of the universe. There were sector houses throughout the universe, roughly one for every ten sectors or so. In order for the Guardians' agents to better serve in their assigned duties, these structures were created and shaped like Green Lanterns' power batteries which were used to hold captives in custody in order to be brought to Oa for confinement in a Sciencell. They also served as recreational centers as well as meeting places for Green Lanterns of the neighboring sectors. A warning system within these buildings notified the ring bearers of any troubles within the sector. Think of it like a space station apartment complex with an Oan rec room somewhere and holding cells.
The sentient planet GL, MOGO!
The role-play would begin with players either stationed on Oa, training on Mogo with 'Wog and Stel, or off patrolling their own sectors. If we do this stat based, only the larger battles would include the stat system.
What's going to be different about this RP?
Where games in the past have revolved around Lanterns from the rest of the spectrum, this will solely be about GREEN Lanterns. I'm also going to make some microhero bases (and I know... not everybody's a fan) so folks can copy/paste parts to create their own Lanterns if they want. Enemies will be both cannon characters, reimagined cannons, as well as originals. And players are encouraged to tell adventures about their Lanterns in their home sectors. There will be over-arching plots as well as individual stories being told.
There's a few different routes we could take from a story standpoint, and plenty to discuss, and I'm open to any suggestions. I'm going to put this out there to an RP community I'm part of on another site and link them here to try and get some new members on the forums, as well as old faces like Shingo, Maverick, and Murdock if I can get them on Facebook.
Do you have the willpower?!
- Ω