EDIT: I finally found one, so nothing to see here, move along...
Hello all;
Somewhere in my collection, I have the 1996 Judge Dredd Wall Calendar. These would have been sold in book stores and comic shops across the United States back in the fall of 1995, its release having been timed to coincide with the release of the Sylvester Stallone movie.
I need to scan an image of Dredd that was in that calendar, because I have been unable to find a digital copy of the image, despite years of scouring the internet in search of it. Unfortunately, I can no longer locate my copy of the calendar. It's somewhere in my collection, but I have no clue where.
THIS IS WHERE YOU COME IN. I need assistance to locate another copy. This is what the cover of the calendar looks like: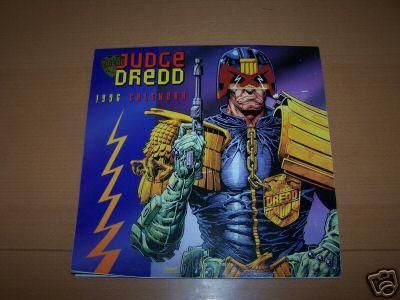 I have already checked the usual suspects. There are none on eBay, nor have there been at any time in the recent past. There are none on Amazon, although checking their site did help me obtain the ISBN info for the calendar. I then used that the search on ABE Books (a search engine for rare and out-of-print books and other products that have an ISBN.) That also turned up bupkus.
But while I'm on the subject, here's the ISBN info from Amazon...
ISBN-10:
0781912520
ISBN-13:
978-0781912525
With the summer convention season upon us, I know that at least a few of you will find yourselves in large rooms full of dealers specializing in comic book and SF memorabilia. I also know that at least some of you may visit shops specializing in SF & comic memorabilia that would have old, out-of-print items such as this.
Find me this calendar, if you can.
I'd prefer it in Near Mint condition, but at this point, as long as it's complete and in good shape, I'll be satisfied.
If you can track one down, or already have one you wouldn't mind parting with, shoot me a Private Message. Thanks in advance for your cooperation, citizens!