Alrighty, finally got rid of enough stuff in my room to take pictures of my "haul", so I guess its my turn to blog.
As noted earlier in the thread, I usually get a retailer ticket from a friend of mine, free of charge. its the only way Ive been able to go the last 5 years. Well, after buying my airline ticket from Portland to San Diego, the next day he tells me Diamond Distributing is limiting their ticket giving and because he is a small company, he got shut out. So, I freak.
By the end of the next day, I had a ticket available. The catch was 1. I had to pay the full $150 and 2. No preview night. So, I take it. Then the week before SDCC, my friend comes back to tell me Diamond gave out more badges, and he had one for me. Since it was Preview night included, I took that ticket and just ate the $150 I spent on the other ticket.
So, now comes the flight down. Portlant to San Jose, with a layover. Then onto San Diego. They announce they are looking for people to give up their flights, since they over booked. EVeryone declined. They made offers at different stages, getting turned down each time.
First: $100 voucher and a flight landing in SD at 9pm
Second try: $200 voucher and a flight landing in SD at 9pm
Third try: $300 Voucher and flight landing in SD at 9pm
no one took any of the offers. I declined since that means I would have missed preview night. So, everyone boarded the plane, and they got on the loud speaker
Fourth offer: $300 voucher,refund of ticket ($105) and 9pm.
no one budged. The stewardess got on the speaker and asked who all was going to SDCC. Everyone raised their hands. She said "year, right. No one is getting off this plane"
They then came back with a final offer of $300 voucher, $105 refund, and a 5pm landing in SD
I told them if they promised I would be on that plane, I would take the voucher. They did. So, I did. Quick and easy $400
so, now Im stuck in San Jose airport for 3 hours. But let me tell you. It is niiice. I thought Portlands was nice. This beat PDX. Why? USB and wall plug-in at every seat
So, I get there in time. Get into the Convention. Only to find out that Funko was capped 5 minutes after the door openned. And Hasbro capped their line 25 minutes after doors openned. Oh well, I was still able to get my exclusives from NECA, WETA, and a couple of other places. Plus, I had my Mattel stuff preordered. No problems right?
Wanna see two wieners backed up together?
The only picture i took from preview night.
Met up with my new GLC.com friends at the Tilted Kilt. At first, I didnt know who to look for, so after about 30 minutes I headed out the door. only to walk 2 miles and get a text from A-Train letting me know where everyone was at. So, back I go.
Met alot of new friends. Had a good time. Including the best Garlic Fries I've ever eaten.
Went to the hotel and got ready for the first full day of SDCC.
Thursday, like Jay said, you cant work SDCC by yourself. You'll get eaten alive. Its best to work a small group. We had 3 people get in line at about 4am to wait for the doors to open at 630. Myself, I usually slept in and was the last one to join the line at about 620. From there, we split into 3 groups. One group to autograph line, one group to Hasbro line, and one group to wait in the entrance line. thursday, I ended up about 400 people back in the Hasbro line. Not too shabby. I got myself a timed ticket telling me to show up at 2pm to buy exclusices.
When I get there, and I finally get to the front of the line, they sell out of the GIJoe/Transformer, literally 5 people ahead of me. Im told I can keep my time ticket and try again later, or just get whats in stock, and lose out on the X-over. They tell me they are out for the day. So, I get what I can, cuz Im not waiting in line. I calmly explained to them that, while I understand their reasoning, it still stunk. So, onto other items.
Every year, there is one artist that I make sure I get something from. and thats Lord Mesa.
https://www.facebook.com/lordmesa.art
(Yes, his name is Lord Mesa). I enjoy the chibis that he draws, and he has a way of making them in 3D, which I find extremely cool. This year, his new idea was Commissioned T-shirts. I figured instead of Hal, I would switch it up this year
So, now onto the Mattel line. Usually I dont wait any more than 20 minutes. But I had to open my big fat mouth and ended up waiting for 3 hours this year. Best I could was get Sylent into line with me. So I had someone to hang out with. It was funny watching Security boot people out that try to bulldoze themselves into the front of the line.
So, thursday night, I figure lets get some packing done.
but it all wouldnt fit. This made me spend $240 total for shipping everything back home.
Friday morning was more of the same. Wake up after everyone else, get in line, wait in hasbro, get my ticket, then wait in the entrance line. This time though, I was able to smuggle Sylent and Primus into the Hasbro line. And then smuggled them into the entrance line as well. You would think people would get mad at "cuts" but people are generally laid back and just accept "cuts" because they know their friends are coming as well. Kind of a scratch my back/scratch your back thing.
The entire day is spent roaming around. Visited a couple of panels about self promoting your comics. Bought whatever Green Lantern stuff I saw and did not already have. Saturday was more of the same. Flew home first thing sunday morning to beat the rush.
Here are what pictures I got from the show. All I ever have is my cell phone and its a pain to work the camera, so im not big into taking pictures
Some Cos-players
[img]https://sphotos-a-sjc.xx.fbcdn.net/hphotos-prn1/q71/s720x720/946920_10151724778076870_547835741_n.jpg[img]
Lego does something cool. They make the walls around their booth out of LEGO sheets. so you can build while you wait. so I hid a little message in their for my wifey. bottom left
Another new friend. Eddie Deangelini. He publishes a comic strip also about him and his wife. Got alot of good tips from him.
Here is the line of people trying to get into Hall H for Friday. Each line of white tarps has 2-3 lines of zigzagged people. This line stretched down the back of the ConCenter and down a pier and looped back.
Ducktales!!! MAN, I cant wait for this to get released. I think its later this month
Met up with my Best Friends. Didnt get to hang as much as I would have liked, due to the Exclusives hunt.
This guy was AWESOME as the Joker. Video was necessary to get the full effect. Totally in character the whole time.
Bikini and Airbrush
Brought some fliers with me, to pimp out the TnC comic strip. Slid them onto the Freebie table, and they made it thru the weekend without getting tossed out.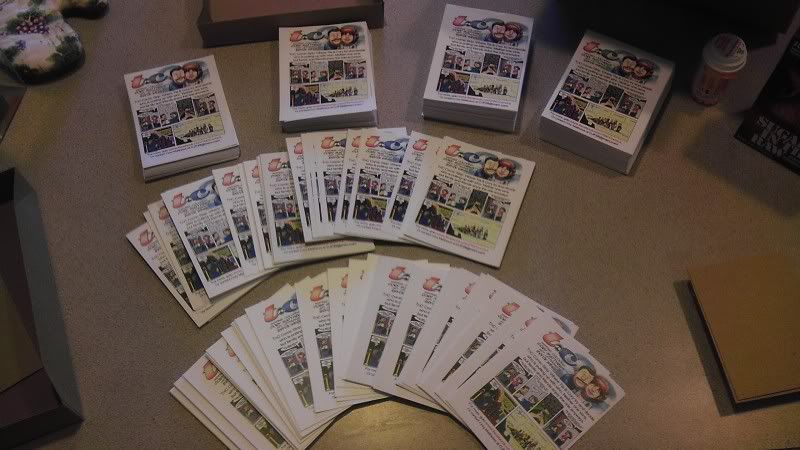 Now, Exclusives and Haulage. I try to help people ever year, that cant go. Im extremely big on community and trying to build friendships. To this end, I always offer Exclusives at cost. I never mark up unless I put them on ebay. This year, I was planned. Everyone paid ahead of time, and I even had a spreadsheet
This is what $240 looks like. 2 big boxes sent home, and leftovers thrown into my luggage
Postal service was polite enough to make sure my exclusives got enough oxygen
And unpacked, this is what my floor looked like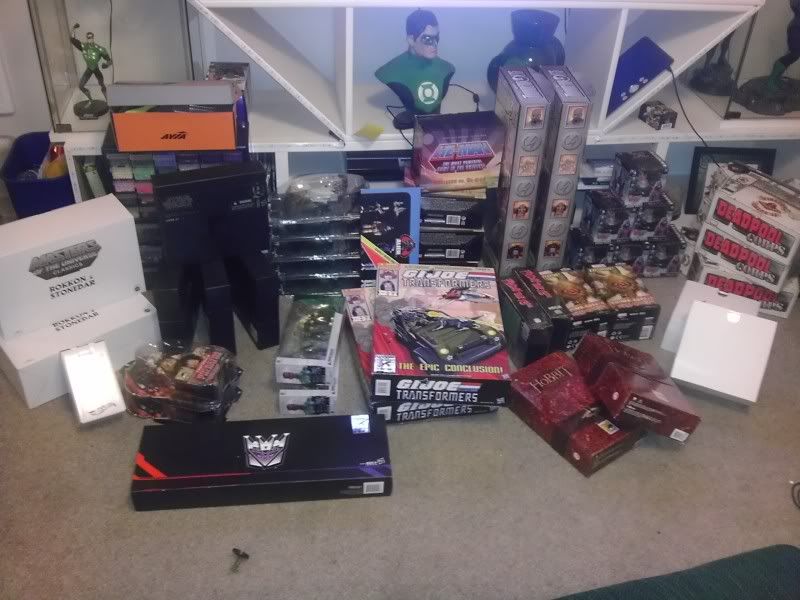 Then box them out, to get them to their owners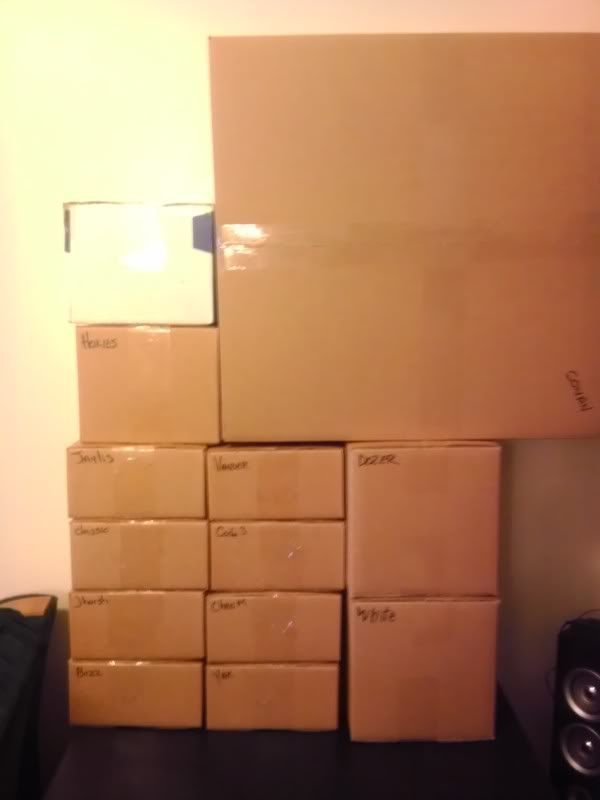 Overall, I think it was a pretty good con. Better than last year. I think if you stay away from the Exclusive booths (Mattel, LEGO, Hasro), the convention wasnt very packed. But having a hotel almost 2 miles away, took a toll every day. Next year, gonna have to work my ass to get something closer.
Thanks for reading all this,
Cory