Rebirth
Chapter 1: the Jackal & the Juggernaut
The year 3015…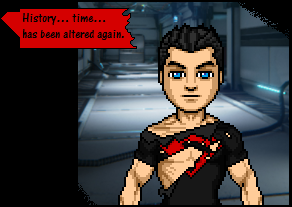 "History… time… has been altered again. Out of nowhere Superman's got a son with Lois Lane, and HE'S going by Superboy. Guess that doesn't matter now. Not since I'm back in the future and trying to save the past…"
Superboy/Conner Kent thought to himself from the half damaged HQ of the remaining Legion of Superheroes, sporting a ripped up black t-shirt and dirty jeans.
998 years ago… [2017]
"It doesn't bother me that Superman has a kid now. It's not like he ever treated me like a son…"
Superboy thought while battling some idiot at STAR Labs with a tech'ed out left arm and little side-arm under it,
"… but if HE'S Superboy, who am I supposed to be? Where do I go from here?"
The enemy blasted Conner with his larger tech'ed out left arm, knocking the teen hero through numerous technological devices and ripping up his shirt. Superboy, now back to wearing jeans and a black t-shirt with a red S on it, flew back at the guy and smacked the nameless villain through a wall and crushed the larger of the two tech arms. Now standing over the KO'ed villain he asked nobody in particular…
"Will I ever get a decent arch enemy of my own? Or am I stuck to taking down no-name losers like YOU and Superman's leftovers?" he asked, nudging the knocked out enemy with his foot to make sure he wasn't dead. "So far I haven't found a good
match
…"
"Sucks I can't get a hold of Tim, or ANY of the Teen Titans lately… I had to resort to a Superman shirt and jeans without somebody with the resources to make me another solar suit after the last one got damaged. Now I already need another t-shirt…"
Conner began thinking flying out of STAR Labs and into the Metropolis night sky before a glowing sphere began materializing out of nowhere around him.
"What is THIS now?!?"
he thought before vanishing into thin air.
Back in the future...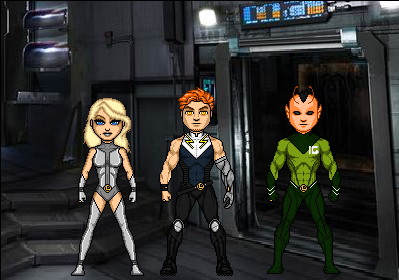 Superboy stood in front of three Legion members, all a little different than what Conner remembered. Lightning Lad, Chameleon Boy, and Dream Girl looked like they had seen better days. They all looked exhausted. And Lightning Lad had a robotic left arm…
"You guys are looking rough. What in the hell happened to your arm Lightni…" Conner began before Garth cut him off.
"It's Livewire now." The red haired hero stated, "The Legion was broken. Generally when something like this happens we try and get Superman to come back to the future. The Time Sphere must've locked on to your hybrid DNA and thought YOU were Superman…" he continued.
"I was SUPPOSED to be, at some point…"
Conner thought as Livewire began explaining the situation a little more.
"It all started about fifteen years ago, before the Legion was ever thought about, when Cadmus resurfaced as a mobile planet called Cadmusworld. The United Planets were still coming together and the Commonwealth was the closest thing to it and it stretched between sectors 2810 to 2815. Cadmusworld mostly operated in sector 2812, and was something of a vacation resort and a place where if you wanted to put your brain in a fresh body… the option was available. Superheroes were 'cloned' and modeled after the Justice League of your era, multiple times even. Their last Superman… Superman X, went off the grid shortly before Cadmusworld was shut down. Billions died when this League of clones didn't perform as well as their earlier predecessors…." Garth explained.
"You're telling me you brought me here to help you deal with another Superman clone? This could be the arch enemy I'm looking for!" Conner said a bit too enthusiastically.
"I'm going to go check on Chuck. You need me for anything?" the Durlan shapeshifter in green asked Livewire, while also raising a brow to Superboy.
"I think we're okay here, Chameleon. Go on ahead; we'll meet you there in a few…" Garth responded.
"Wait, it's JUST 'Chameleon' now? Let me guess… they're calling you Daydream?" Superboy responded then looked up at the blonde precog.
"It's Dream Girl. That doesn't sound bad though…" she responded as the Durlan exited the room.
"Anyway…" Garth started explaining again, "… a year ago some dog like alien humanoid calling himself the Jackal showed up out of nowhere on Earth. The whackjob claimed millions more needed to be sacrificed for Superman to rise. Right around the time we lost his trail, Colossal Boy went missing. The Jackal showed up again on Braal during a magno-ball championship with over fifty thousand in attendance. He boasted as 'his Juggernaut' tore through the arena and killed nearly everyone at the event. We all had a feeling who the Juggernaut was under the mask, and a group followed their trail to Daxam in sector 2815. The Jackal claimed Mon-El and his people had to die, that NONE of them could ever be Superman. He used Gim like a puppet with some kind of toxin and made the planet's core unstable with a bomb. Only around two hundred Daxamites made it off world alive…" Livewire continued.
"Who didn't make it?" Conner asked getting right to the point.
"Confirmed dead are Mon-El, Ultra Boy, Phantom Girl, Duplicate Girl, Sun Boy.... and Colossal Boy. Starboy, Saturn Girl, and Dawnstar are missing." Dream Girl said looking down at Superboy and then down at the ground.
"Damn."
Superboy thought.
"And I lost my arm. As if things weren't bad enough, a few more Legionaries quit. Problem is, two months ago that Superman showed up around the floating remains of Daxam. The red sun in the solar system had no effect on his powers…" the red haired Legion member commented.
"Now things are getting interesting…"
Superboy thought.
"Who else have you guys got? Surely it can't just be the three of you and Bouncing Boy..?" Superboy asked.
"Follow us…" Livewire said as he and Dream Girl went through an exit and flew out into the night sky towards another odd shaped building on the outskirts of this 30th century Metropolis.
Elsewhere, in sector 2012...
"It's almost time for us to rise again, my giant. My... juggernaut..." a canine humanoid said in a wrecked laboratory looking at a large male under glass without his skin.
"I have enough leftover technology from Cadmusworld to clone us each another six times each at least! The minute we die our consciousness will be transferred to a fresh body instantly. Like turning on a light!" the furry beast of a man kept talking to the clone under glass as if he could already hear him.
"...and the Superman has already been sighted! Everything is going according to plan. All we have to do is stop the Legion from rising again. Superman has to be the ONLY hero the universe trusts." the Jackal continued walking out of the room and passing what looked to be the arm of both the former Colossal Boy as well as the left arm of Livewire. Another cloning tube could be seen in the back of the room with another clone coming to life without skin....
Back on Earth, Metropolis...
"Chuck calls himself 'Bouncer' now. His inflated form was damaged fighting against the Jackal, but now his skin is like hardened rubber. He's durable now and when he bounces he's a bit more random and chaotic. He's been training some new recruits at the Academy…" Dream Girl explained to Superboy as they flew through the air behind Livewire.
The three of them entered the building as Chameleon and Bouncer saw a training exercise end with the new recruits.
"You mean nobody gave you something else to wear, Superboy? Let me see if I can find a spare flight ring, it can produce you a new suit from the ripped up clothes you're wearing now…" Chameleon stated and stepped out of the large room.
"So you guys got the son of Superman INSTEAD of Superman?" the more hardened Chuck asked.
"I'm not his kid, I'm…" Superboy began before Chuck cut him off.
"I know everything about you. The first clone of Superman that also used human DNA, telekinetic based powers, I even know about the few times you've managed to use heat vision. I'm STILL going through files we retrieved from some memory banks connected to Cadmusworld." Bouncer continued. "I just knew calling you that would strike a nerve."
That's when one of the new recruits coughed. Then a kid with a yellow shirt seemingly absorbed two twins. Chuck put his hand over his face like he forgot something.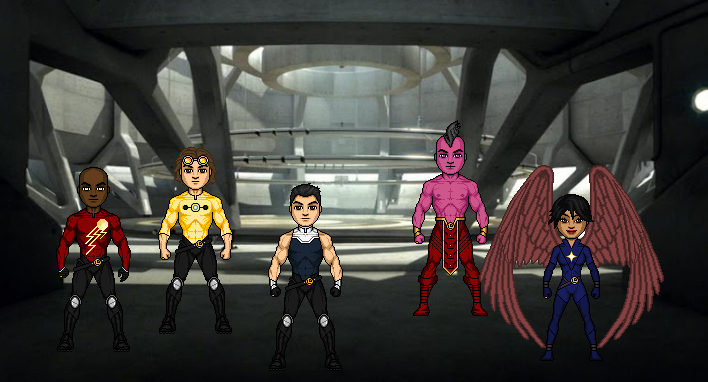 "Frak! Nura, Garth… I haven't even introduced you guys. Class, this is Dream Girl and Livewire. And THIS is another Superboy, but not the 'Son of Superman' we studied last week. Guys, this is Sunbolt, Trinity, the Ungaran is Titanic, and the winged girl is actually Dawnstar's younger sister. She wants to use the alias Nightstar…" Bouncer informed the groups.
Just then Chameleon showed back up with a flight ring for Conner.
"Think of something you'd wear in the field and focus on the ring once it's on your finger…." Chameleon said as Conner put the ring on and began getting his suit reformed and altered, "…because the universe needs Superboy and the Legion ASAP."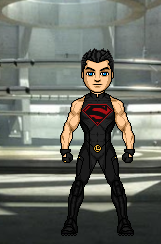 ~//V\\~