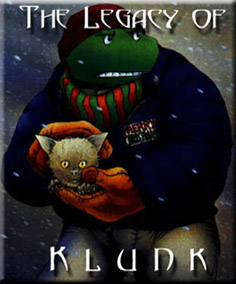 THE LONG AWAITED RETURN . . .
KLUNK IS BACK IN TMNT #15
( CLICK ON BELOW TO ENLARGE )


THE 1ST APPEARANCE OF KLUNK!
( Michaelangelo special )


KLUNK vs. RAPHAEL!
( Leonardo special )


KLUNK RETURNS!
( Vol. 3, #15 )


KLUNK & SPLINTER
( Vol. 3, #17 )
Introduced in the Michaelangelo special almost a decade ago, Klunk the cat has sadly only made a handful of appearances since. The most prominent of which is in the Leonardo special, in which Klunk single-handedly stopped Raphael from sneaking a peek at Michaelangelo's presents. When the colorized Volume 2 started, however, Klunk was mysteriously absent for its 13 issue duration, save for a casual comment by a D.A.R.P.A. agent that their thermal scan of April & Casey's apartment detected a cat, and the opening page of #2, in which we see a kitty litter box and kitty litter bag. TMNT Vol. 3, #15, reintroducing Klunk, leads the reader to believe Klunk still resides in April & Casey's apartment, and is now living with April, Casey, Shadow, and the Turtles in the Turtles' mausoleum home.

Klunk was originally discovered by Michaelangelo in a snowstorm just after the Turtles returned from their journey across D'hoonib, Triceraton space, and the Utrom homeworld, when Mike went out Christmas shopping. He stayed with the Turtles in April O'Neil's "Second Time Around" store until the Foot Clan burned it down. He then moved with them to Casey Jones' farm in Northampton and stayed there until they moved back to Manhattan. Klunk since remained in April's apartment complex, staying with April, Casey, and Casey's stepdaughter, Shadow. He later went into hiding in the Turtles' mausoleum lair in Westwood Cemetery with them, when Shadow's safety became jeopardized, but that was only temporary.

Klunk sightings :

Michaelangelo special, Leonardo special, TMNT Volume 1, #17, #42, #46, the pin-up in the back of #49, Tales of the TMNT #2, and TMNT Volume 3, #15, #17, & #20. He was mentioned in TMNT Volume 2, #9, Tales of the TMNT Volume 1, #3, and TMNT: Challenges, Tales of the TMNT Volume 2 #9

Until #15, Klunk had yet to make an appearance in the Image Comics series. Gary Carlson, writer of TMNT, gave word that Klunk would indeed return some time after the Turtles return from Chicago and their latest meeting with the Dragon in #10 and #11, which put the return of Klunk somewhere in the neighborhood of #15 or #16. Sadly, he didn't appear in #12, #13, or even #14 as hoped. But Gary was, as it turns out, right on the money, as Klunk makes his triumphant return to the pages of TMNT in issue #15 of the current volume. Victory!

Sadly, in Tales of the TMNT Volume 2, #9, "The Path," it was decided that Klunk would make his last appearance. If you must know what happened, you can see the spoilers on the official TMNT site here.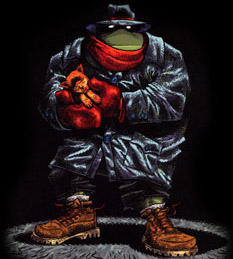 JUNE 25TH, 1998 : THE DAY KLUNK RETURNED
WHERE WERE YOU?
EXCERPTS FROM THE KEVIN EASTMAN NELSON'S WORLD CHAT ( dated ). . .
Klunk: Do you plan on bringing Klunk back?

KevinE: Klunk? Klunk is a cat and I'd love to see Klunk back.

KevinE: These are hardcore fans to know that.

...

Fugitoid: Hey Kevin, what ever possessed you to name the cat "Klunk"?

KevinE: LOL!

KevinE: God, that's a good question.

KevinE: I think an animal, to help fit its personality, should have the weirdest name possible.

KevinE: And, "Klunk" just came out.

...

Nelson: Bring back Klunk!

KevinE: We'll do a mega mutant Klunk destroys New York. Independence Day style epic.