TMNT CHRONOLOGY

To anyone not familiar with the Mirage series, this will probably bore you to tears. Even for most that are familiar, this probably still will bore you to tears.

If you're going by the actual dates in the issues, I've already found tons of self-contradictions. Here's the first few actual date references in the issues themselves :
TMNT Vol. 1, #4 : "Of that day fifteen years ago... a speeding truck on a potholed street.... a heroic act by a young boy..."

TMNT Vol. 1, #7: "It all started almost a month ago, as you all know, when Baxter Stockman let loose his little metal monsters in the stormdrains..."

TMNT Vol. 1, #7: "Your Master Splinter told us that you are fifteen and one half years old... exactly that many years ago we had our accident."

(TMNT Vol. 1, #7.5) Michaelangelo Special: Christmas #1

TMNT Vol. 1, #8: "1986!" "Isn't this supposed to be New York in the year, 1986?

(TMNT Vol.1, #9.5) Leonardo Special: "This is only our second real Christmas..."

TMNT Vol. 1, #11: (dates from April's journal, which she writes during the issue) "Jan. 15, 1987" - "May 1, 1987."

TMNT Vol. 1, #19: (Newspaper next to Raphael) "December 23, 1988"

TMNT Vol. 1, #21: "Three years ago I saw you die--why do you haunt us?!"

TMNT Vol. 1, #46: "Massachusetts 1992"

TMNT Vol. 1, #52: "Account past due 2-31-92 Blue Flag" "Seven months overdue!" "I wonder why the computer took so long to flag it." (7 months after February would place this issue in September, 1992)

TMNT Vol. 1, #54: "... Christmas Day..."

TMNT Vol. 1, #57: "One year ago, when you killed Oroku Saki..."

TMNT Vol. 1, #58: "Two months" (referring to how long Splinter had been laying semi-conscious)

TMNT Vol. 1, #59: "May 1993" (calendar on the wall)

TMNT Vol. 1, #59: (response in lettercol) "Yes, the Turtles are [now] 16. The chronology is based on issue 48 picking up sometime shortly after issue 21 and 'Return to New York' left off."

TMNT Vol. 4, #1: "Is it just me... or was this a lot easier fifteen years ago?"
TMNT Vol. 4, #1: (to Shadow) "I well know how impatient teenagers can be...."

TMNT Vol. 4, #3: (Shadow) "I've known Jay for three years"

TMNT Vol. 4, #6: "I've spent most of the last twenty years in the company of ninja masters..."
TMNT Vol. 4, #6: (lettercol) "When did April and Casey get married?" "Sometime in the last fifteen years."
TMNT Vol. 4, #6: (lettercol) "and as far as Karai's relationship to the Turtles goes... well, it's been fifteen years" (that seems to indicate fairly well it's been 15 years since "City at War")
I mean, what seems *certain* if we're to assume the dates from the first few issues are gospel is the following:
1972 - TMNT are born/exposed to mutagen / TMNT Age 0
1985 - Shredder's first death / TMNT Age 13
1988 - Shredder's 2nd death / TMNT Age 16
But then it gets tricky...

#46 and #52 seem to indicate it is, at that point, 1992... which would make the Turtles about 20 years old at this point. *But then* #59 (which then indicates the year is then 1993 from a calendar on the wall on the first page) in the lettercol plainly says, quote unquote: "Yes, the Turtles are [now] 16. The chronology is based on issue 48 picking up sometime shortly after issue 21 and 'Return to New York' left off." Which then, saying the Turtles are 16 in "City at War," MUST mean that it's only been a little less than a year since #21 and the second death of Saki... but that would STILL put the year of the present at that point at late 1988, early-to-mid 1989.

I mean, it's got to go one of two ways: consider the early dates given through "Return to New York" the true dates, or the dates that appear from #46 throughout "City at War" ... we can't have it both ways.
WAY #1 (assuming the dates through "Return to New York" are the accurate ones)
1972 - TMNT are born/exposed to mutagen / TMNT Age 0
1985 - Shredder's first death / TMNT Age 13
1988 - Shredder's 2nd death / TMNT Age 16
1988-89 - "City at War," peace with Foot Clan / TMNT Age 16 into 17
1989 - Volume 2
1989-90 - Volume 3
2004 - Volume 4
WAY #2 (assuming the dates given from #46 thru the end of "City at War" are the accurate ones)
1976 - TMNT are born/exposed to mutagen / TMNT Age 0
1989 - Shredder's first death / TMNT Age 13
1992 - Shredder's 2nd death / TMNT Age 16
1992-93 - "City at War," peace with the Foot Clan / TMNT Age 16 into 17
1993 - Volume 2
1993-94 - Volume 3
2008 - Volume 4
WAY #3 (assuming Image Comics' Volume 3 really does move in "Real Time" as it was said to)
1981 - TMNT are born/exposed to mutagen / TMNT Age 0
1994 - Shredder's first death / TMNT Age 13
1997 - Shredder's 2nd death / TMNT Age 16
1997-98 - "City at War," peace with the Foot Clan / TMNT Age 16 into 17
1998 - Volume 2
1998-99 - Volume 3
2013 - Volume 4

NOTES ON WAY #3: The comic dates given for Way #3 are based on several key points. 1) Leonardo indicates in Vol. 1, #21 that 3 years had passed since #1. The Turtles could have been no younger than 13 in #1 (the comic was still called "Teenage," of course), and no older, in order for a cohesive timeline to work in light of all other facts. 2) The Turtles make a comment in Vol. 1, #4 that it had been fifteen years since their mutation. 3) It is indicated in "City at War" (Vol. 1, #50 - 62 + 48 & 49) that about a year had passed since the Turtles second defeat of Shredder (#21), and that the "City at War" arc itself spans about a year itself, meaning they almost definitely made the transition from 16 to 17 throughout the story arc. Since "City at War" itself does span nearly an entire year, the Turtles would had to have been 17-and-a-half or borderline 18 throughout Vol. 2. Vol. 3, of course, cements that they are at age 18 by their eighteenth birthday party in #1 and 19 by their nineteenth birthday party in the final issue, #23. The dates themselves are based on the fact that the current series (Vol. 3) establishes that the Turtles are now roughly moving in present-day, real-time. Taking comic delays, short time-spanning storylines, and such into consideration, this is not always possible. For instance, though Vol. 3, #1 hit selves in 1996, the issue the Turtles turn 18 in, it was 1999 before they turned 19 in #23. With this in mind, for every year in reality that went by without the Turtles turning 20 in the Image series, every comic event in the above timeline of events had to be bumped ahead a year. In TMNT #1, Volume 4 the Turtles make the comment that "this was easier 15 years ago" in reference to the Purple Dragon encounter of Volume 1, #1, when the Turtles were 13 years of age - this establishes the Turtles are 28 in Volume 4. Chronology is a headache, I know.
Considering several factors, including Plastron Cafe #1 (published Dec. 92), in which a future Don enters a fight simulation that Don says is "New York City, circa 1985" in which it appears to be a loose reinactment of the very first issue of TMNT, complete with Shredder (further cementing Vol. 1, #1 as 1985), I would have to say that Way #1 is the only way to go. However... I do think the year 2008 or 2013 makes the most sense for the purposes of Volume 4, so I'm leaning toward Way #2 or #3.
The following is a table that represents Way #1, probably the most accepted timeline :
TMNT COMIC & RPG TIMELINE
REALITY YEAR
EVENT
COMIC DATE

N/A

1984

1989

1992-93

1996

1996

1998

2002

N/A

N/A

N/A

The TMNT are born pet shop turtles, then exposed to TCRI mutagen

The TMNT defeat Shredder for the first time

The TMNT defeat Shredder for the second

The TMNT make peace with the Foot Clan

The TMNT confront Warlord Komodo

Donatello becomes a cyborg

Raphael becomes the Shredder

The Turtles continue the fight at age 32

Donatello takes Splinter's remains to Japan

Donatello lives alone in Honda Province, Japan

Nuclear war, plague, "the Big Death." Mutants inherit Earth, Empire of Humanity forms

1972

1985

1988

1988-89

1989

1989

1989

2004

2004+

Early 21st Century

Late 21st Century
TMNT AGE CHRONOLOGY
COMICS
AGE
TMNT Volume 1, #1
TMNT Volume 1, #2 - ?
TMNT Volume 1, #21 - ?
TMNT Volume 1, #48 - 62+
TMNT Volume 2, #1 - 13
TMNT Volume 3, #1 - 22
TMNT Volume 3, #23+
TMNT Volume 4, #1 - 28+
13
15
16
16 into 17
17
18
19
32
THE STORY SO FAR. . .
( MIRAGE / IMAGE LORE )

THE MUTATION
There once lived a man named Hamato Yoshi. He was Splinter's owner, and a great ninjitsu master. As Yoshi practiced, Splinter mimicked his movements from his cage and learned the art of ninjitsu himself. Yoshi was a great shadow warrior, belonging to a ban of ninjas called the Foot Clan. He had a rival named Oroku Nagi, and they competed in all things. Their fiercest battle was for the love of a woman named Tang Shen. Shen only loved Splinter's master, Yoshi. One night, Nagi went to Shen and demanded that she love only him. When she refused, Nagi began to beat her. Yoshi came home to find Nagi attacking her, and in a fit of rage, he attacked Nagi, killing him. Because it was forbidden for one member of the Foot to kill another, Yoshi had only two options: he could commit suicide and hope for honor in the next life, or flee to another country and try to start a life again. He chose the latter, taking Shen, Splinter and his few belongings to New York. Meanwhile, Nagi's younger brother, Oroku Saki was training with the Foot, vowing revenge on Yoshi for his brother's death. As he grew older, his hatred for Yoshi deepened. At age 18, Saki was chosen to go to America and head the New York branch of the Foot Clan. Under Saki's leadership, the Foot became involved with criminal activities. Saki took on the persona of "The Shredder." Finally, he tracked down Yoshi and Shen and made his move. When Yoshi came home that night, he found Shen dead on the floor. Saki then slew Yoshi as he stood in shock. Splinter was then free, but alone, as both Shen and his master Yoshi had been killed. In grief and despair, Splinter roamed the streets, scavenging garbage scraps to survive. Then, one day, he witnessed an accident: an old blind man was crossing the street, and was almost run down by a large truck. A young man, Matthew Murdock, leaped at the blind man, knocking him out of the way. The truck screeched to a stop as a metal canister marked "TCRI" bounced out of the back, hitting the young man in the head near the eyes. The canister bounced several more times before hitting a glass terrarium held by a boy named Chet containing four baby turtles. The glass broke and the turtles fell into a manhole, along with the canister, which then seeped a strange glowing ooze. Splinter found the turtles crawling in the strange liquid, and gathered them into an old coffee can. The next morning, Splinter received a shock when he found the turtles had doubled in size. As the turtles grew and became more intelligent, so did Splinter. One day, one of the turtles spoke, "Splinter!" More words followed, and soon they were all talking and standing upright. Splinter decided to teach the Turtles all that he had learned from his master Yoshi. With a battered renaissance art book that he found in a storm drain, he gave them all names: Leonardo, Michaelangelo, Donatello, and Raphael.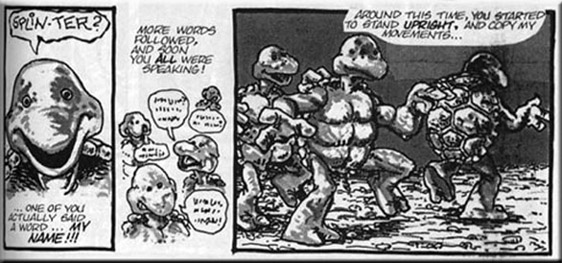 ( TMNT Vol. 1, #1 )
FALL OF THE SHREDDER
The Ninja Turtles, at thirteen years of age, defeated the Purple Dragon gang. Returning to the sewer, Splinter decided they were at last old enough to finally fulfill the mission he had trained them thusfar to accomplish: the death of Oroku Saki, AKA the Shredder, and the avenging of Hamato Yoshi and Tang Shen. The Turtles issued the challenge to Saki, challenging him to a rooftop duel he readily accepted. Knocked from the roof they fought upon by Donatello after their fierce battle, the thermite grenade he was preparing to use on the Turtles went off beside him, destroying him on his descent.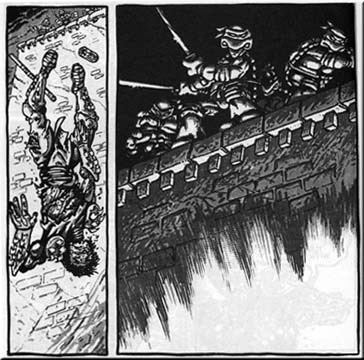 ( TMNT Vol. 1, #1 )
RETURN OF THE SHREDDER
Oroku Saki returned from the grave, resurrected through a form of worm cloning and the resources of his Foot Clan upon their recovery of his pieces. After having the Foot lure Leonardo into a trap, he beat him within an inch of his life, the Shredder threw him back to his brothers. After a fight within April O'Neil's "Second Time Around" shop, the Turtles, April, and Casey Jones were forced to retreat to Northampton, Massachusetts. After over a year, Raphael returned to New York to challenge the Shredder. His brothers accompanied him, and with the aid of the Triceraton, Zog, the Turtles invaded Shredder's Hudson Block headquarters. Moments before the entire block was laid to waste, Leonardo beheaded Shredder in an intense sword fight.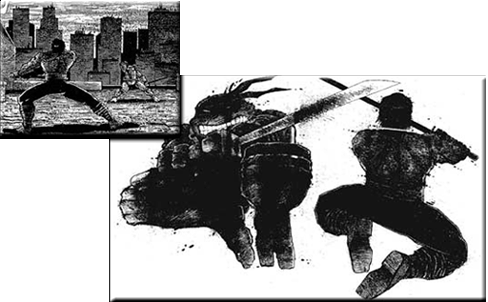 ( TMNT Vol. 1, #21 )
FOOT CLAN INSURRECTION & THE TRUCE
No longer united under their leader, the New York Foot Clan split into warring clans, the Shredder Elite Foot comprising their own, which began killing off all other Foot factions. It wasn't until Karai, the current leader of the Japan Foot, came to New York to quell this conflict that it subsided. Though her task of reunifying the New York Foot had to involve calling on the Turtles in an alliance to dispatch the vengeance-driven elite Foot, she succeeded, though it cost her the life of her daughter. In the end, Karai promised to honor her word that their long conflict with the Turtles was at an end.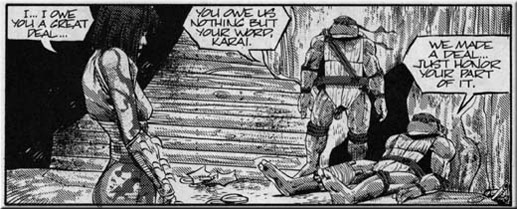 ( TMNT Vol. 1, #61 )
A NEW DAWN
Following the truce with the Foot Clan, a new era dawned for the Turtles as they stepped out of the shadow of the Shredder. Things, however, did not work out the way they expected. Soon the Turtles grew apart, each brother moving into their own space. The assault of a now-cyborg old foe, Dr. Baxter Stockman, and the capture of Raphael by DARPA and the resulting adventures brought them together, and by their eighteenth birthday they were living together again in the sewers.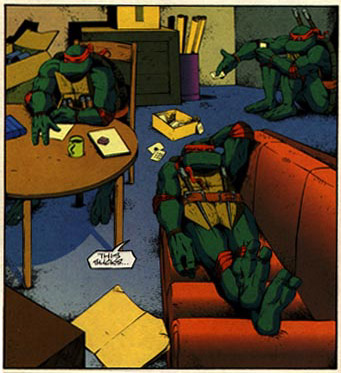 ( TMNT Vol. 2, #2 )
A TIME OF STRIFE
On the Turtles' eighteenth birthday, the kunoichi female warriors of Warlord Go-Komodo and their cyborg counterparts, invaded the Turtles' lair, shooting Donatello and capturing him and Splinter. After falling several hundred feet from a helicopter, Donatello merged with a cyborg to stay alive, becoming one himself. Raphael, after being shot in the face by a decapitated cyborg, had half his face burnt. He now wears an eyepatch. Splinter was taken before Warlord Komodo, who he befriended before being tricked into drinking poisoned tea. Injected with synthetic mutagen, he was turned into a bat-like creature upon coming into contact with the bats in a cave the Turtles instructed him to hide in before escaping. Splinter also has rabies, and is currently no more intelligent than an animal, despite Leonardo's best efforts to cure him.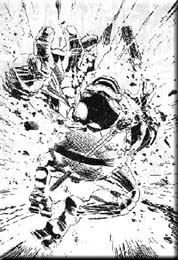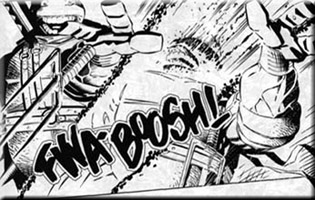 ( TMNT Vol. 3, #1 )
A NEW SHREDDER
After a meeting with the Ruling Council of the New York Foot Clan, Raphael witnessed their brutal gunning down by a hitmen squad sent by mobster Antoine Puzorelli, who acted on orders in retaliation for their betrayal that allowed the Turtles to regain Casey's kidnapped stepdaughter, Shadow. Raphael swore he would fight to end the conflict the Foot found itself faced with. Killing a great deal of the hitmen himself, Raphael happened into the inner sanctum that once belonged to Oroku Saki. Donning one of the suits of Saki's armor he found within, Raphael declared himself a new Shredder, slaying the last of the hitmen. What was left of the New York Foot pledged loyalty to him, and together they showed up in Antoine Puzorelli's household, forcing peace. Eventually this loyalty was shattered on the nineteenth birthday of the Turtles by the appearance of a "Lady Shredder" with her own following of Shredder Elite just after Pimiko appeared as a claimant to the mantle of the Shredder (making the matter moot).
( TMNT Vol. 3, #13 )
ADULT MUTANT NINJA TURTLES
Now at age thirty-two, the Turtles, still together (and without the damage and injuries inflicted on them in their late teens), find new allies and adventures. Meanwhile in Northampton, Splinter has become something of a father to a now much-older Shadow.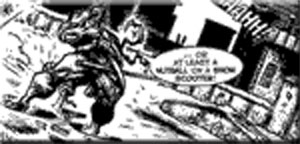 GLIMPSES OF TOMORROW
( MIRAGE / IMAGE LORE )
THE DEATH OF SPLINTER
A vision Splinter once experienced indicated he would be slain, perhaps at the hands of one of the Turtles, and be buried by Donatello in the Japanese village of his birth, Chihaya.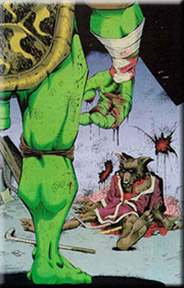 ( TMNT Vol. 2, #1 )
DONATELLO
Living in early twenty-first century Honda Province, Japan, Donatello (cyborg no longer) carries on alone in his home on a hillside, his only apparent companion being the Artificial Intelligence program he calls "Chet."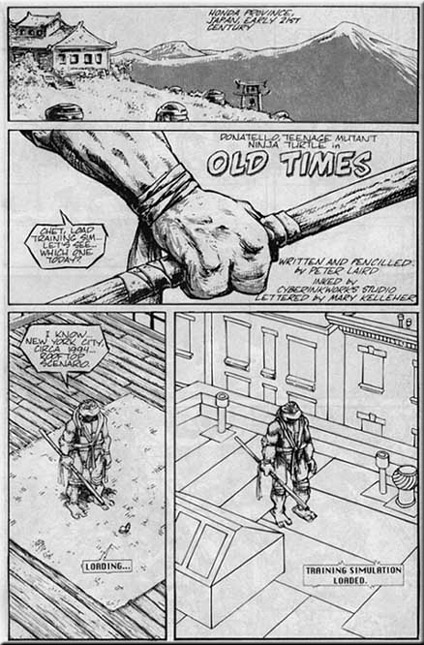 ( Plastron Café #1/4 )
RAPHAEL
Alone in a swamp somewhere on the bayou, unknown events and Raphael's anger has isolated him into self-exile.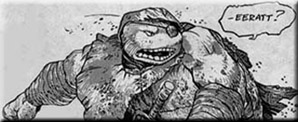 ( Michaelangelo special )

( PALLADIUM RPG LORE )
AFTER THE BOMB
The time is the late twenty-first century. The place is America. An America torn apart in a brutal catastrophe of war, plague, and nuclear winter ("the Big Death"/"the Crash"). An America now populated mostly by intelligent, mutated animals. Most of the population are animals, mutated dogs, cats, mice, and moose, but there are still some humans remaining (roughly 28,500). Most humans have worked hard to help the animals, establishing schools, factories, and governments for the new animal order. Other humans were not so enlightened, and records of persecution and killing were common. Now all of the evil that humans are capable of has been concentrated into one powerful force led by Emperor Christian: the Empire of Humanity. With a functional nuclear fusion plant, with advanced, early twenty-first century technology at their disposal, with a loyal canine nation blind to their madness and with a huge slave labor force, the Empire is by far the strongest force in the known world. Worse, the Empire loudly threatens to exterminate all the intelligent animals, threats they do well to back in ensuing struggles.
A NEW GENERATION
As mutants largely inherit the Earth after the Big Death and resulting global mutations, Raphael comes out of hiding and becomes the sensei of a new generation of Ninja Turtles. There are three of them, one of which female. Raphael sets up a temple where he educates and trains this new generation, as well as a small number of other mutant animals. When a group of Road Hogs decides to terrorize them, Raphael's pupils get their trial by fire, though they are defeated by the Hogs' leader. It is then that Raphael takes action, killing the leader.

Read this story here.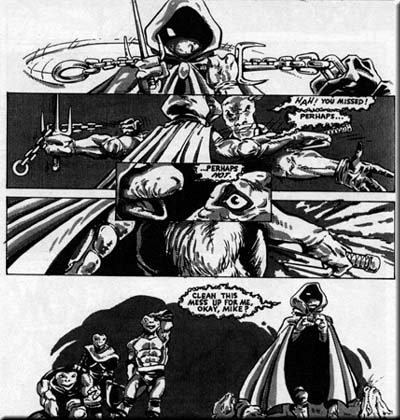 ( TMNT & OTHER STRANGENESS: AFTER THE BOMB - ROAD HOGS )