This is a collection of my mood, my preferences and everything I deem necessary to rant about. So, enjoy...and welcome to Brandan's Bodega!
Movie News Issue#6
---
Well, after a zillion month hiatus, Wally's World is back. No, I don't have an exclusive, but its movie news that really doesn't call for a thread. First up:
FOX(the only news company that did not show Obama's win speech) is looking for a director for its new
X-MEN: FIRST CLASS
movie. Back in May, Gossip Girl creator Josh Schwartz let it slip that he was writing a young X-Men spin-off. 20th Century Fox has remained mum, but now Variety has confirmed the project and is reporting that Schwartz declined an offer to direct the film. Taking the name of a 2006 comic book series, X-Men: First Class will center on the other teenage characters attending the Xavier Institute for Higher Learning. The comic line-up includes Iceman, Rogue, Angel, Colossus, Jubilee and Shadowcat. My bet, is that they'll get one huge star(other than P.Stewart) and put him/her around a bunch of young actors similar to X3. Don't look to hear anything with McG, as I'm hearing WB wants to keep him all to their selves for the next 6 projects.

Next is news on Captain America: The First Avenger Apparently, the Chronicles of Narnia writers Christopher Markus and Stephen McFeely are in negotiations to write the screenplay for Marvel Studios. Last week the company announced that Joe Johnston had been brought aboard the project to direct, lets hope its as good as the first Narnia was.
Something that could be in the WTF series, Walt Disney Studios has announced that the only full-length animated feature film to ever be nominated for an Academy Award for Best Picture is being converted into Digital Disney 3D: The 1991 animated feature film Beauty and the Beast will be re-released in 2010. WHY? Aladdin would look much better in 3D than the overrated Beauty and the Beast.....and where the fuck is news about TOY STORY 3!!!!!

And I'd like to wish a Happy Belated Birthday to my main man Mickey Mouse!!! He turned 80 years young yesterday.
Lastly, I leave you with a picture of George "I'm overdue for an Oscar" Clooney on the set of his new film "Men Who Stare At Goats"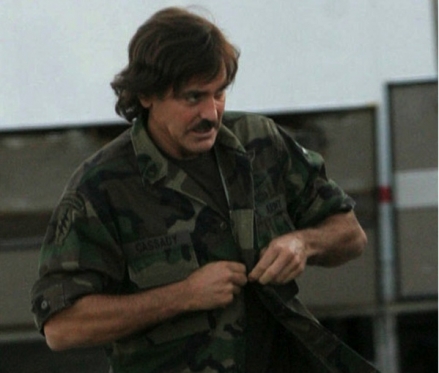 Till next time, stay Flashy!
....too corny?
Views
18200
Comments
5
Comments