Welcome to
sYLeNt's AsYLuM!
It's the blog page that has BIG things poppin'... little things stoppin'. So sit back, relax and enjoy the view cause I got blogs BETTER than YOU...
"BALLIN'!!"

SDCC Booty
---
No, no. Not booty as in posterior, but booty as in prizes and swag. This is all the stuff I got from the SDCC:
Got a light-up ring and two Black Lantern rings. I had to beg the WB booth chick for the light-up ring, but hey. You do what you have to do.
Got this nice Playboy with Olivia Munn for free. The bonus was having it signed by these two hottie playmates: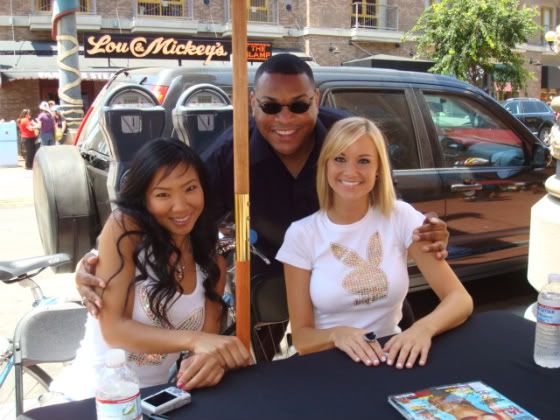 Oh, the things I would do to her.
Got the SDCC exclusive Soundwave only because I have the original which is thrashed beyond belief. After transforming it 500 times, the joints have become rather worn. Sue me. I was 12!!
I have to laugh at all those people that bought several cases of these Soundwave figures. They're virtually worthless on the secondary market. SUCKERS!!!
Picked up the GL: Origins 3 pack. Not too bad.
Also picked up the DCIH Anti Monitor figure. It's the only DCIH figure I own.
The Blackest Night poster. I was hoping it would be a different one, but this one works fine.
Some books that were given away at the DC booth.
Last but certainly not least, the SDCC Exclusive GL figures.
This is the last time I go to a Con and attempt to purchase the exclusives. We wasted AT LEAST a third of our overall time waiting in line, jumping through hoops and screwing around trying to obtain these damn things. We missed our on so many other panels and exclusives. Never again! Well... unless they have a Shockwave exclusive the next time around.

...and here's some REAL booty just because I can.

Views
1774
Comments
4
Comments