My most recent corps tattoo is the Orange Lantern symbol. I got it done yesterday on my right shoulder.
Two years ago, I got the Sinestro Corp symbol on my left leg and the Green Lantern symbol in the exact same spot, but on my right leg.
Left Leg...
Right Leg...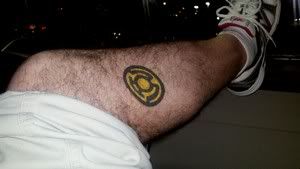 I will be definitely getting more, but not sure exactly where on my body yet. I will probably get the Blue Lantern symbol on the left shoulder, opposite the Orange Lantern symbol.
If you got Lantern Corps tattoos, post them up!