Welcome to my custom lantern thread.
Feel free to comment and say whatever you like.
Give me Ideas cause i would love to hear from you guys.
I have tons of extra DCUC Lantern figure in boxes.
Sinestro Crops - Tri-eye
So this one was kinda fun. Doesn't look the best but. I had a bunch of LOW heads.
So i just cut them up and used them. Everything else was sculpted.
I swear there is more detail but the camera is kinda broken
Haven't really tried to sculpt anything thing like this but i think it meets my standards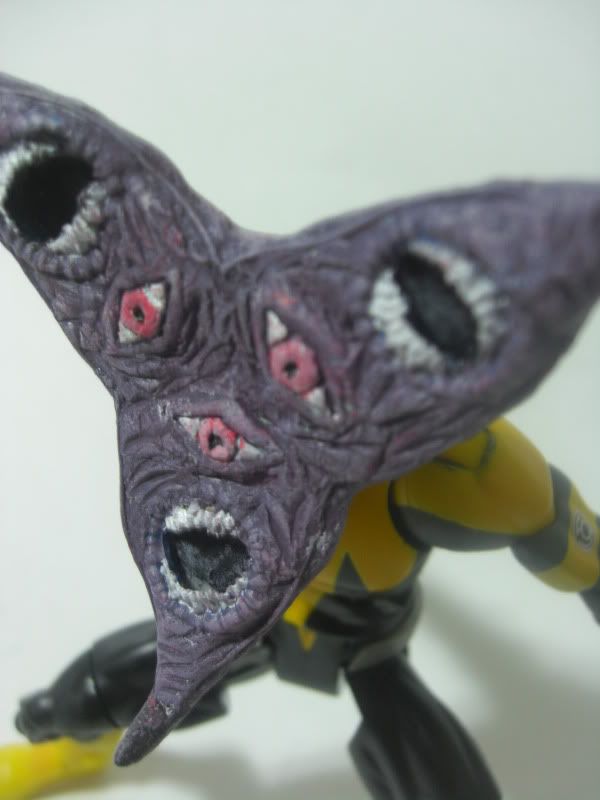 Green Lantern - Raz
This one is an original too. Head was sculpted.
base was Abin sur black lantern.
Used the arms and legs from titanium man from Ironman movie 1
Kinda looks like a skinny ninja/robot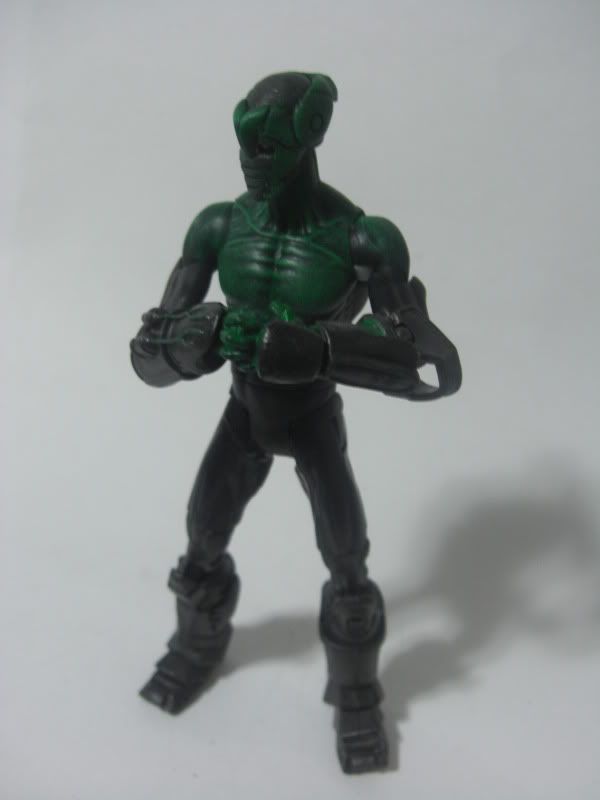 Sinestro Crops - Lazarus
Use some halo figure for the head and legs.
I also have SO MANY LOW/MASH so i used
low's hands and took mashes jaw and put it
on the head for an extra scare.
I'll take new pictures of this so u can see the details
He was not raised from the dead after 4 days but Lazarus
tortures his victims for 4 days after ending their lives.
He has a unbelievable skills on extracting information on his victims.
A great addition to the Sinestro Crops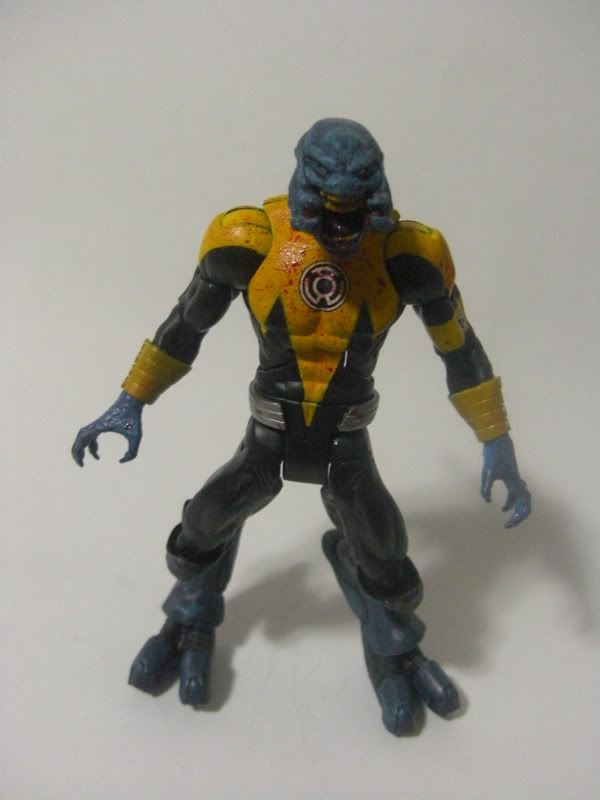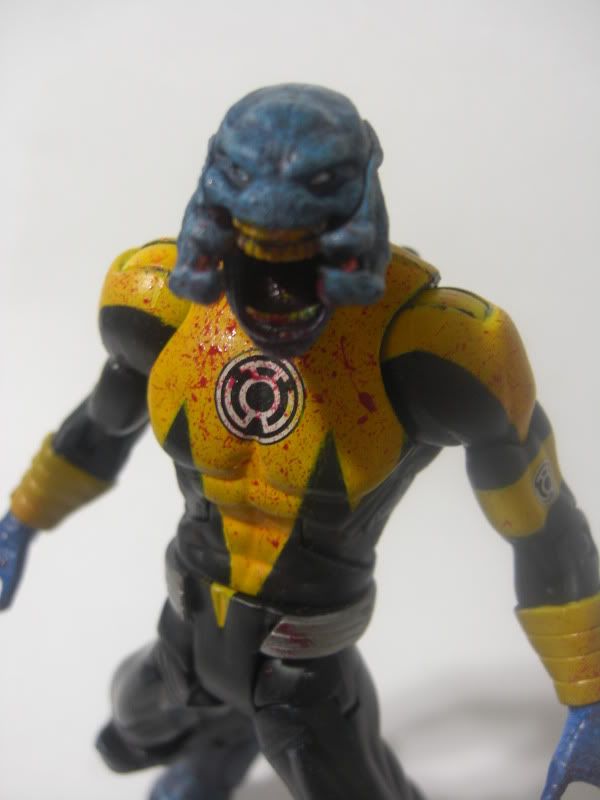 Sinestro Corps - Freddy Krueger
Fear, who do you think of when the word fear is whispered in your ear?
Evading earth and destroying everything just isn't enough for The Sinestro Corps.
Fear is the theme and with that The Sinestro Corps searches for Freddy Krueger.
Pulling him out of the endless possibilities in the world of dreams.
Reality no longer making Freddy Krueger a powerless burnt undead man.
All thanks to the yellow ring. Fear is what Freddy Krueger knows and now you will too.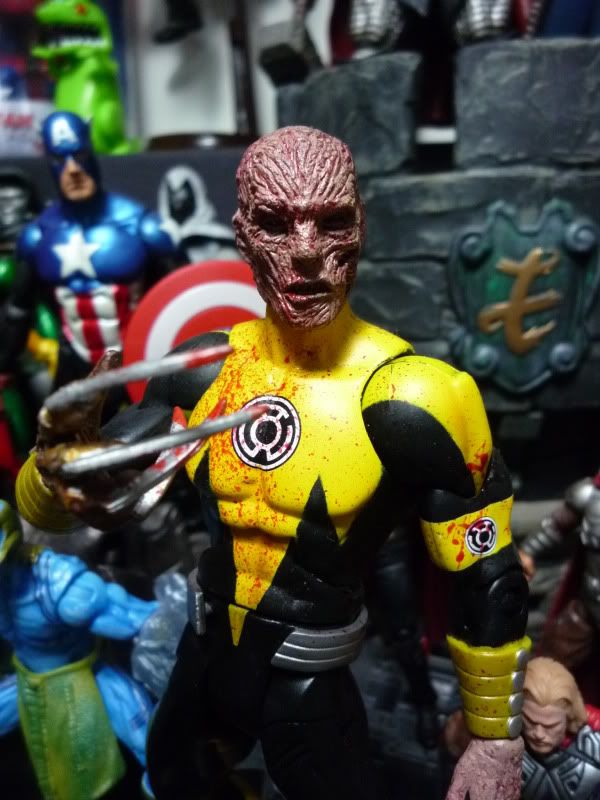 Sinestro Crops - Wolverine
was just a head swap and added some bobby pins for claws.
I think i'll do more to him tho.
Green Lantern Batman
I just popped the head and cape on and popped it on Kyle rayners body.
Sinestro Corps - The Hybrids
The true origins of the Chimera are unknown,
but it is known that at least 60 million years ago
the Chimera controlled Earth.
They came back evading Earth and turning humans into Chimera Hybrids.
The Hybrids were part human using cooling injection packs to sustain life.
The Resistance was able to fight and eliminating the entire Chimera alien
race on Earth but that is not with still Pure Chimera roaming the galaxy.
During the battle, three Chimera Hybrid in a single shuttle pod were able to
escape later being discovered on the planet Qward by Octillious of Sinestro
Corps. With vigorous studies of the three Chimera Hybrids, Sinestro Corps
reconstructs the brain using the human part to control them and Chimera
side of the brain to awake the warriors within. Naming them with the code
name "The Hybrids"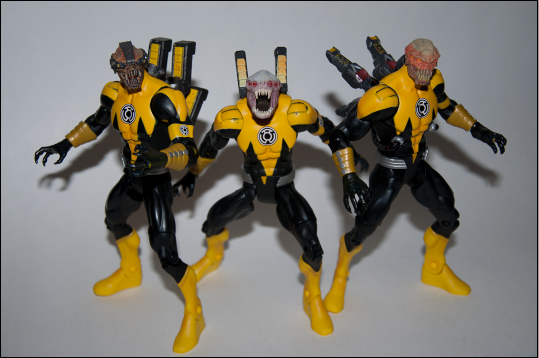 Sinestro Corps -Vistro
Vistro was the right hand man of an alien crime mob boss named Tempus.
As his boss grew older and order was restored
in the galaxy due to the Green Lanterns.
Tempus decided to shut down and live a normal life.
Vistro wasn't too happy about this and didn't understand because he enjoyed the power way too much.
He then set search the Anti-Matter Universe
for the Sinestro Corps, showing them all his Fear and might.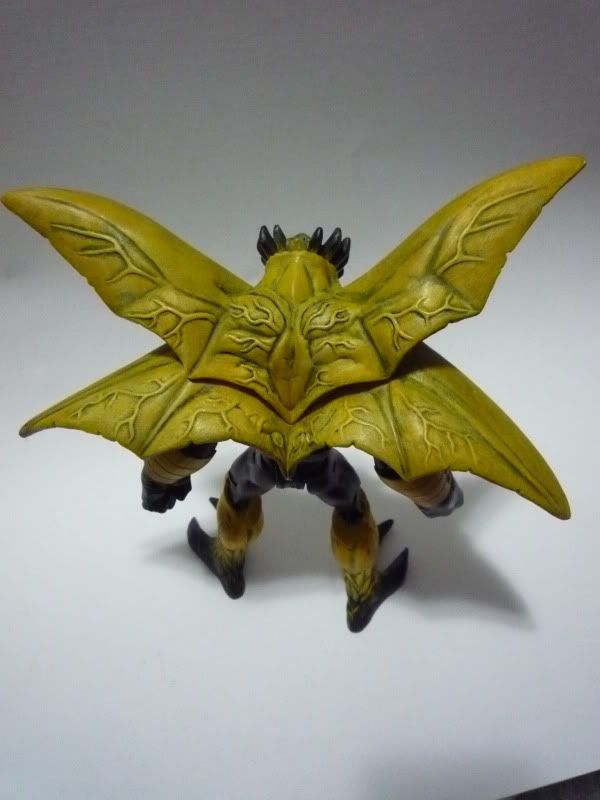 Sinestro Corps - Octillious
DCUC Low/mash
Head and legs are From so Ben10 Figures
When Octillious was a young-ling he was kidnapped from his family and
brought to a remote a planet to become a slave.
After years of hard ship, Octillious and fellow slaves
decide to rebel, trying to escape.
Octillious managed to escape but had no where to hide but underground.
As years pass living in the shadows, eating garbage and remembering nothing of his pass.
All that mattered was how to survive another day.
Octillious no long a little boy, uses his strength and fear to cheat, lie and steal just to survive.
The Sinestro Corps setting an evasion on the planet to recruit new members
came across Octillious after taking down two Sinestro Corps member with just his hands.
Offing him to join. Octillious realizes anything could be
better then what he was going through and that
this will be the closest thing he will ever come to having a family.
The Sinestro Corps